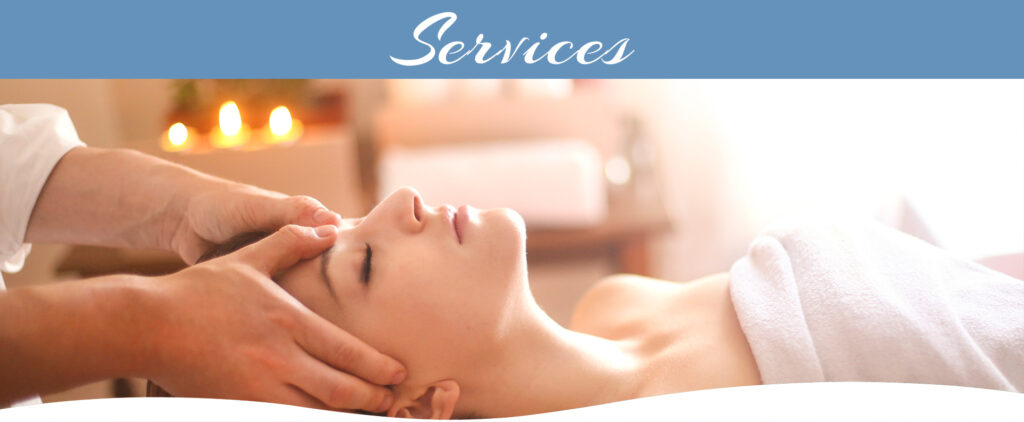 Therapeutic Services
Enjoy a wide variety of services and therapies designed to focus on your specific relaxation or healing needs.
Choose from our list of services to maximize your personal experience.
Massage Services
Therapeutic Massage

Medium Deep Pressure Massage

deep pressure massage , releasing tension & knots deep in the muscles, best used

in/for pain management :

$85. Spot work. $100 60 minute Session. $150. 90 minute session
Relaxation Massage

Light – Medium Massage

Medium pressure massage perfect for stress reduction and releasing tension in tight

muscles while pulling you out of your head even just for a little while :

$90 / 60 minute session. $130 / 90minute session
Oncology Gentle Touch Massage

Light pressure massage given to clients and their care givers to help improve their circulation

and lymph flow and nurturing- stress reducing through their course of treatment ………… $55
Cupping

Helps release tense muscles also pulling stagnant Qi and toxins out, while helping injury's recover

faster – (Using Stationary cups, spot work only)…..$65

(gliding/moving cupping )……. $75spot work / $90 whole body
Table Thai Passive Stretching

Increases your range of motion, helps with postural alignment of your body, grounding …….$90
Body-Treatments

See SPA services ……… helps in anti -aging, stress and anxiety, all over skin health.
Hot Stone Massage

By using the basalt stones relax and Relieves tension in tight muscles through the heat of the stones. By using the Himalayan salt stones does the same as above listed as well as detox and exfoliates dry skin leaving your skin more healthy, vibrant and soft.

Both stones brings more circulation of blood flow to the skin surface

…………………… Basalt stones…… $90. Himalayan Salt stones……$100. 60-90 minute session
Spa Services
Hot Oil Scalp Massage

Heated oil is rubbed in hands then dragged through the hair and worked into the scalp with a

gentle but effective scalp massage. It deeply hydrates the hair follicles and scalp leaving you

feeling relaxed yet rejuvenated. ……………………………… $55. 30-45 minute session
Body Wraps

Different wraps have different benefits……. These are roughly 90 minute sessions and add on's can be incorporated into them- ask for details. Sessions can be customized to you needs.

( Shower off wraps)- $150. (Leave on treatments ) – $135

Mud wraps – deep hydrating, anti aging, grounding. (Shower off))

Cactus wrap -toning and firming. , anxiety relieving & stress reduction. -( leave on)

Green Tea – detoxing ……… (currently not available at this time)

Wine Down – anti aging. Anxiety relieving & stress reduction. -( leave on )

(More to be added ………..coming soon)

Body wraps start by exfoliating the skin with a dry brushing of the skin leaving you skin healthier and more vibrant as well as soft to the touch. Then product is applied to the body and the body is then cocooned up with heated blanket. While body is cocooned you'll receive a gentle scalp massage.

after allotted time is up you are then un-cocooned and depending on whether it it a shower off or leave on treatment we proceed forward by applying a thin layer of a shea butter or steeped milk lotion to the entire body. Leaving you feeling very relaxed and rejuvenated and ready to take on whatever awaits you in life.
Add-ons (added onto any existing services)

Added on to any existing service being done- prices will vary dependent on service being done

Hot Oil Scalp Massage ………………….$15. Full Facial …………………………………..$50

Jade Rolling …………………………………..$15 Ice globe facial massage ………………$15

Dry Brushing ………………………………….$15. Hand/ Foot scrubs or wraps ………..$20

Herbal Compress Balls ……………………$30. Paraffin Dip ………………………………….$15

Mini Facials …………………………………….$30 Gliding Cupping………………………………$15
Additional SPA Services
Thai Herbal Ball Compress

After a light dry brushing of the body.Muslin wrapped herb filled balls steamed in water are then applied to the body with compression movements, rolling movements & long strokes along the body. Between the warmth of the poultice and specific steeped herbs in the poultices, leave profound effect on the body as well as very relaxing …… $75
Body Scrubs

Exfoliation of the skin on the body leaving fresh new glowing healthy Skin and improves the

circulation of blood flow to the body & skin.

Your choice of a Salt or sugar scrub…… $65
Custom Norvel Spray Tanning

A custom spray tan given after a dry brushing of the body, this is not your tanning bed /tubeorange leaving tan.

Norvel has a natural look you can go as light or as dark as you want with no orange look it is specifically customized to you in just as little as 45-60 minutes you can have that nice warm glow or the deep Caribbean tan you've always wanted

Norvel tans last 10-14 days with proper care and your therapist will advise you on that. $65
Holistic Facials

A cleansing, toner, exfoliation, mask, toner, steaming, facial serums, facial massage and moisturizer .

Leaving your face glowing healthy, bright and rejuvenated …………………………… $65
The Sonoran Escape – Wrap & Facial

A full body dry brushing, while an application of a anti-aging serum made with watermelon & Basil is put on all over the body, your body will then be draped

with heated moist towels. Then you will be cocooned up in a sheet and blanket wrap,

while your cocooned up you will

receive a full holistic facial using organic professional skincare line as well and a full scalp massage, then when your wrap is done your body is then un-wrapped

and the moist towels removed and then a thin layer of an (anti-aging) watermelon basil body mousse is then applied .

This treatment will leave you feeling like butter and is extremely healing for the body,mind, & soul. While extremely blissed and relaxed. Best stress buster yet !! Well worth the price ask for details …………………………………………..$150
Shirodhara – Ayurvedic Treatments

This treatment is dripping of heated oil on the third eye area of the forehead during the whole

treatment. During the first 10 minutes of the treatment the body is not touched. When the times

up each extremity is lightly massage then cocooned in a heated dry towel. Once all extremities

are cocooned you will experience and anchoring feeling to the table a grounding if you will. At

that time the remaining oil is released across your forehead and you will receive a Ayurvedic

Indian scalp massage. This treatment is detoxing and you cannot drink any caffeine for 24hrs

following this treatment as it works with your nervous system. It will leave you with extreme

clarity, no more brain fog, detoxed , relieves headaches , is very grounding, balancing and it will de-stress you on a whole new level. This treatment works so well because of the training,energy and the oil used. The oil we use is sourced from India where this modality originated many 1,000 years ago, we have it shipped to us by DHL and is very expensive to get.

You receive big benefits for your scalp, hair and the mind body connection. …

Shirodhara ……………… $100

Ayurvedic Indian head massage ……………. $75

Ultimate Shirodhara treatment ………… $150. (90 minute session.) Consists of a full Shirodhara treatment followed by a sound bowl healing while you are still cocooned up, sending you into a deeper state of relaxation and healing on all levels
Hand & Foot Treatments

Hand and feet soaks, scrubs and wraps are both for softening and anti again purposes leaving you with healthy looking and feeling skin………………………… $ 55

Ultimate Hand and feet massage: ……………… $45

Paraffin Dips: —is dipping off the hands or feet in paraffin wax to soften the skin and deeply moisturize and hydrate the skin also amazing for stiff aches joints . …………….$ 45
Energy Therapy
Reiki Therapy

Using of the universal life force energy known as "Qi" to relax the body and moving stagnant

energy out of the body and activating the body's own innate ability to heal itself. Resulting in

the mind body connection of healing …………………………………………………………………….. $75

Wanting to Learning Reiki level 1 & 2 classes ? – manual included ………………………… $444
Sound Bath & Vibrational Healing

1:1 sound bath or vibrational healing: ……….. 1 hour session. $125

Corporate or small gatherings : (Prices vary ask for details)
Meditation & Spiritual Life Coaching

Spiritual Life Coaching — Coming Soon

(1:1 , group meditation and corporate events available:)

1:1 meditation session 30-45 minutes. $75 …….. 1 hour session $125

(Sound bath meditation :)……..1 hour session. $125

(1:1 meditation Packages 🙂 —-

..( 6 week 30-40 minute )—$444 , (6 week 1 hour session)—- $555 , (8 weeks 30-40 minute sessions) . …….$777. , ( 8 week 1 hour sessions)—- $888. (12 week 30-40 minute sessions)—— $999., (12 week 1 hour sessions) —— $1,222

(Group meditations :)…………1 hour. ( up to 8-10 people ) price varies, A Group of 4 people. $35 per person

Corporate sessions. – Ask for details
Woman circles and Drumming Circles

dates to be determined………

"Circles" are done on a love donation basis

Corporate drumming circles for team building , retreats or office setting – ask for details
Workshops Classes and Events

Dates to be determined ………..

Please contact us if there are specific classes or events you want to see listed or take place. Contact: [email protected]